Description
3.1 channel Soundbar system
Designed to pair with Series 7 Premium UHD TV models, the sleek M550 provides strong, detailed sound from six inbuilt speakers and 340 watts of power output.
Clear, crisp dialogue
A dedicated centre speaker lets you hear clear, crisp dialogue from movies and TV shows, and with separate amplifiers for each speaker array, sound is powerful, smooth and balanced.
Stream music via Bluetooth®
Share great sounding music from your compatible mobile device when you connect wirelessly to the Soundbar vla Bluetooth®.
Screen image simulated
Wireless surround sound ready
Raise the performance of your Soundbar to surround sound. With the optional Wireless Rear Speaker Accessory Kit, your Soundbar can generate an amazing surround sound experience.
Wireless Rear Speaker Accessory Kit sold separately.
Screen image simulated
Take control, with one remote
You don't need several remotes. Control the power, volume and sound effects of your Soundbar and compatible TV with the Samsung One Remote Control.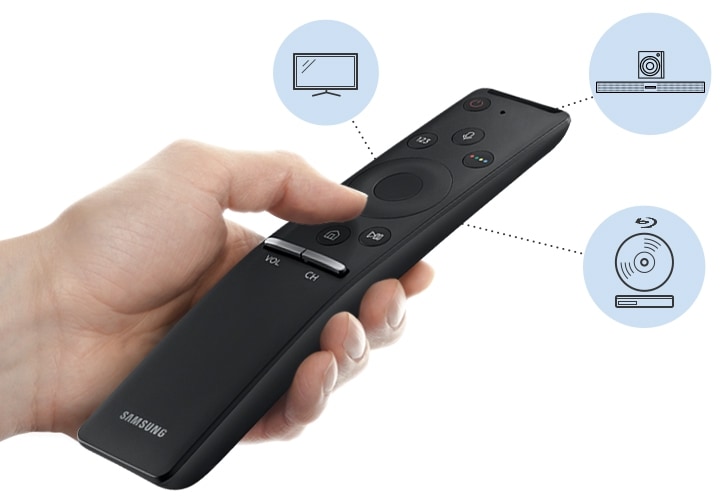 Wrapped in sound
Expand the listening area sideways and upwards with Surround Sound Expansion, and feel truly immersed in great-sounding audio.
Screen image simulated.
Samsung Audio Remote App
Control key Soundbar functions with the Samsung Audio Remote App on your compatible Android™ smartphone or tablet, and play songlists from your device through the same convenient app.
Screen image simulated
The science of sound
Tested and tuned at the renowned California Audio Lab, our Soundbars are engineered using new methods of transduction and advanced computer modeling to provide balanced, room-filling sound.